Our Products
Centrifugal pumping solution, industrial castings and solid waste transport management products
Single phase pumps are specially designed for household requirements in the country. We as leading technical initiative are introducing a range of products Food grade impeller which provides you a healthy pumping solution.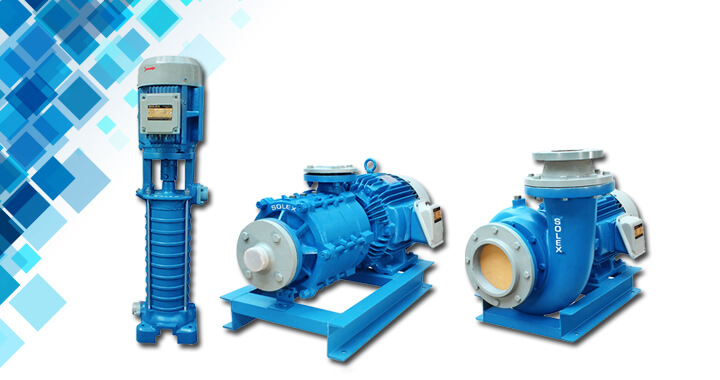 Offers horizontal centrifugal pumps coupled with capacities 3.0 – 50.0 Hp running at 2800 to 3000 R.P.M with insulation class "F" induction motors.
These pumps are of 1"x1" to 6"x6" inlet/outlet diameters and are widely used in industry, this range offers high head/low capacity low head/high capacity and medium head/medium capacity combinations which making it versatile in the areas of chill water, cooling application, high rise building, fire fitting, irrigation, etc.
A range of 2", 3" and 4" Bare Shaft Pumps to suite every need of farmers. These pumps can be driven by hand tractors, Diesel engines or Kerosene Engines.
This range consists of following special application pumps
Submersible pumps such as Sewage Cutter, Sewage Vortex, Effluent,Fresh Water
Submersible pumps for tube wells
Custom built Booster Packages for Hotels, Restaurents, Hospitals, Highrise Buildings etc.
A wide range of Gear pumps for high viscous liquids
The Solex group proudly introduces the service of metal casting. Focusing on the perfect satisfaction of the clients' needs and expectations, we do keep on investing and improving the technology, machinery, equipments and human skills in order to meet the global quality standards in our iron casting complex.
The products are being used in multifarious industries, such as constructions, pumps, hydraulic parts, marine and industrial equipments etc. in addition to our major task of casting high quality (Grey/White) iron, we do offer the needed support services such as pattern development and storage services, metal testing and evaluation, prototyping, part finishing, machining, coating and much more.
This range consists of following industrial vehicles
Tractor mounted/ Truck mounted Gully bowsers
Tractor mounted/ Truck mounted Water bowsers
Aerial platforms
Vacuum jetters
Garbage compactors
Our Products